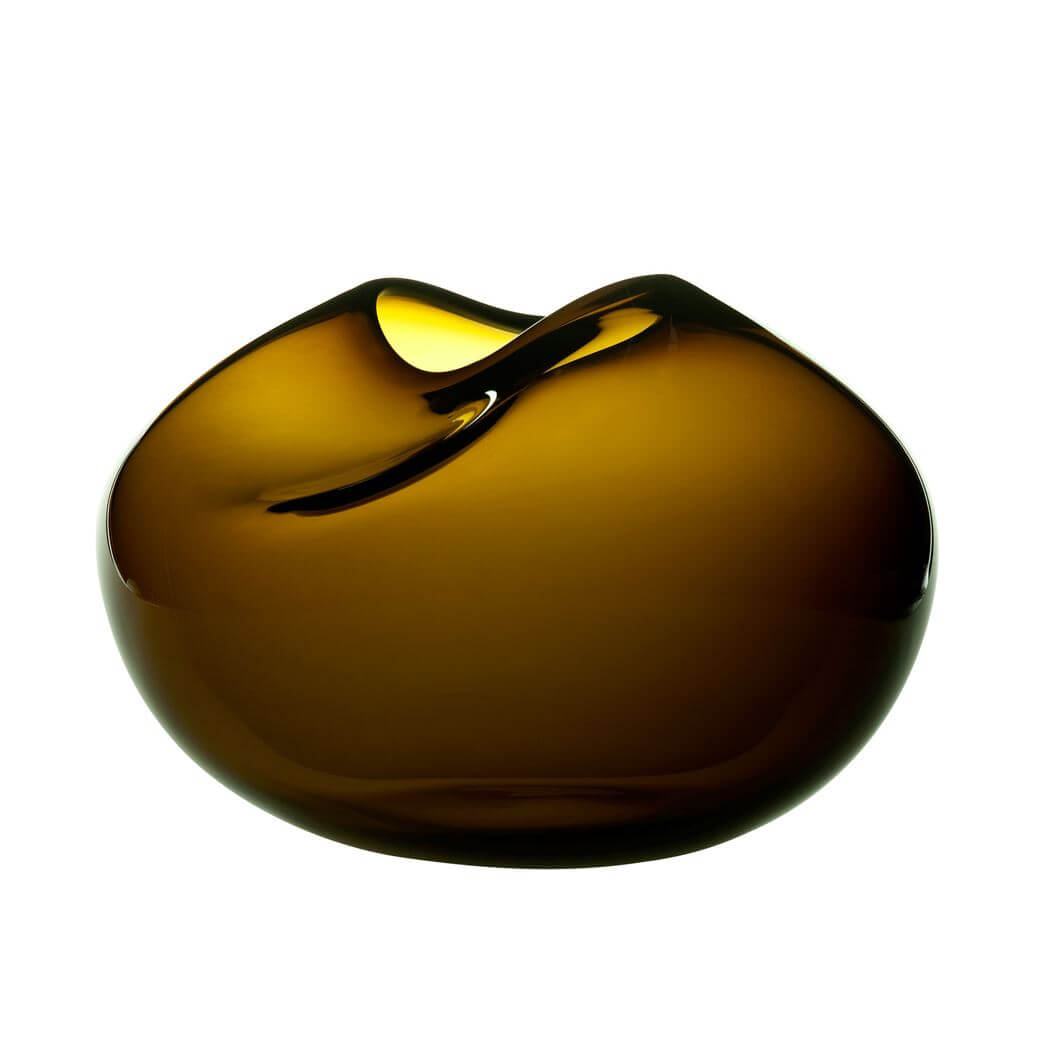 Pebble Vase 'Bottle Green'
Kate Hume - When Objects Work

Story
De 'Pebble' vaas, één van de vroegste ontwerpen van ontwerpster Kate Hume, evoceert de rijkdom van de natuur door haar karakteristieke gebruik van gedurfde, organische vormen. De vazen collectie van Hume kenmerkt zich door het gebruik van prachtige juweel-kleurig mond-geblazen glas, waaruit 'Pebble' is vervaardigd.
Als alleenstaand object komt een Kate Hume vaas al mooi tot haar recht maar een ècht prachtig schouwspel ontstaat, wanneer meerdere Hume vazen in groepen worden opgesteld, waardoor een betoverend samenspel van schaduwen en gelaagde kleuren ontstaat.
Elke vaas is mondgeblazen en daardoor uniek en voelt aangenaam aan door haar zachte, natuurlijke vormen.
Deze internationaal gewaardeerde glazen vazen geven een hoge kwalitatieve toevoeging aan interieurs die een verfijnde uitstraling beogen.
De tevens afgebeelde grotere vaas 'Rock' hebben wij ook op voorraad. Vraag ons naar onze stock.
—————–
Large 'Pebble' vase, one of the earliest designs by designer Kate Hume, evokes the richness of nature through its characteristic use of bold, organic shapes. The Hume vase collection is characterised by the use of beautiful jewel-coloured mouth-blown glass, from which 'Pebble' is made.
As a stand-alone object, a vase already comes into its own beautifully, but a really beautiful spectacle is created when several Hume vases are arranged in groups, creating an enchanting interplay of shadows and layered colors.
Each vase is mouth-blown and therefore unique and feels pleasant due to its soft, natural shapes.
These internationally acclaimed glass vases provide a high quality addition to interiors that aim for a refined look.
We also have the shown large 'Rock' vase. Ask us for our stock.
Details
Designer
Kate Hume
Manufacturer
When Objects Work
Condition
Nieuw in doos.
Wear
New in box.
Size
H 19 cm x ∅ 33 cm
Price: €395,00
Gerelateerde producten
Meer producten
Bekijk alle producten